Free Webinar
Farmland: The Decade's Most Stable Investment Opportunity
with FarmTogether
Stability meets high yield
Rocket Dollar and FarmTogether have teamed up to bring farmland to your self-directed IRA. Proven to be one of the most stable asset classes over the past few decades, and one of the highest yielding asset classes on a risk-return basis, we're excited to bring this new opportunity to you.
Why farmland hasn't been readily available until now

What makes farmland such an attractive, stable investment, especially in the current COVID-19 climate

How farmland stacks up against other asset classes, both traditional and alternative, in terms of correlation and performance

The advantages of adding high cash yield investments, such as farmland, into your IRA and retirement portfolio

How to use your RocketDollar IRA to invest in farmland
Brendan Walsh

Brendan Walsh is a fintech entrepreneur and Wisconsin-Madison graduate, coming from the financial advising and the retirement industry in Chicago. Before joining Rocket Dollar, he consulted various fintech, crypto, and blockchain startups growing throughout his home city. Specializing in sales and customer service automation, operations, and partnership management, Brendan has a talent for recognizing opportunities in new markets and creating efficiencies to accelerate the speed of a fintech organization.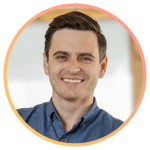 Artem Milinchuk

Artem Milinchuk has over 10 years of finance experience in food, agriculture, and farmland. He holds an MBA from The Wharton School, and a BA and MA in Economics from the Higher School of Economics. Prior to founding FarmTogether, Artem was employee #1 and CFO/VP of Operations at Full Harvest Technologies, a now post-Series A B2B platform for buying and selling produce. He previously worked at Ontario Teachers' Pension Plan, Sprott Resource Holdings, E&Y and PwC.