Colton Jarisch, General Partner at Flywheel Capital Management and Thomas Young, Co-founder of Rocket Dollar, discuss how FCM invests in late-stage Pre-IPO companies, their due diligence process, and how a self-directed retirement account is a perfect vehicle for investing.
Flywheel Capital Management...
Creates closed-ended funds of 10-15 investments each.

Hedges positions post IPO to mitigate downside risk.

Provides access to proven companies experiencing exponential growth prior to a public offering.
Thomas Young

Thomas Young is an operations professional with years of experience in the start-up community. He started his career as the Utility Infielder for AngelSpan, Inc. before moving to a role as the Head of Operations at TCF, Inc. His integral belief in the right of the American worker to enjoy a financially secure retirement has motivated his career and ultimately led him to co-found Rocket Dollar.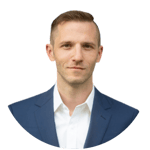 Mike Cavanuagh

General Partner
Morgan Stanley Alum ($150MM AUM)
Currently at Salesforce (Tableau)
Exited Fintech startup QuantAdvisor upon acquisition