Free Webinar
Earn Staking Yield on Your Crypto Investments in a Self-Directed IRA
feat. Staked ETH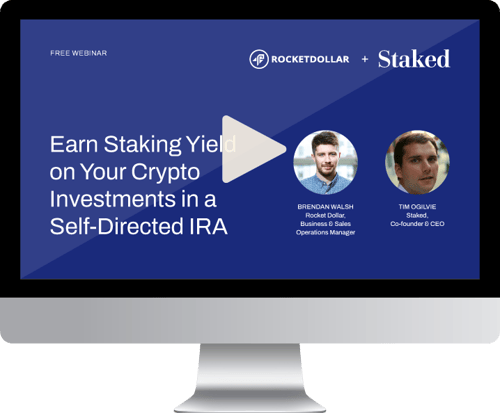 Join Rocket Dollar and Tim Ogilvie from Staked. Tim Ogilvie is the co-founder and CEO of Staked, which provides infrastructure services for investors wanting to earn rewards from blockchain staking.
You can stake cryptocurrency in your Rocket Dollar IRA!
Brendan Walsh

Brendan Walsh is a fintech entrepreneur and Wisconsin-Madison graduate, coming from the financial advising and the retirement industry in Chicago. Before joining Rocket Dollar, he consulted various fintech, crypto, and blockchain startups growing throughout his home city. Specializing in sales and customer service automation, operations, and partnership management, Brendan has a talent for recognizing opportunities in new markets and creating efficiencies to accelerate the speed of a fintech organization.
Tim Ogilvie

Early stage internet entrepreneur with experience creating revenue and growth for young companies. I have experience across product, marketing, and strategic partnerships, and a strong engineering background that lets me play well with the tech team. I've played a key role in the creation of several successful companies from scratch and delivered great returns to investors.