6 min read
Rental Reigns: Why Multi-Family Investing Is On The Rise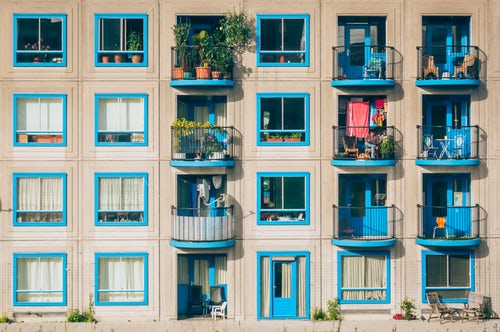 It's no secret that many wealthy Americans made their fortunes in real estate, and multi-family apartments have become one of the hottest sectors of commercial real estate investment in recent years.
National apartment vacancy rates are hovering under 5 percent, and in many markets the average vacancy is even lower, making apartments a safe investment option due to the steady revenue stream from renters and long-term asset appreciation.
Rocket Dollar recently sat down with Eric Sussman, founding partner of Clear Capital LLC of Los Angeles, along with Rocket Dollar Vice President Dan Kryzanowski, to discuss why investing in multi-family real estate is a smart play for Rocket Dollar account holders. In addition to being a longtime student favorite business professor at University of California-Los Angeles' Anderson School of Management, Sussman has more than two decades of multi-faceted real estate investing experience. Kryzanowski, meanwhile, has extensive multi-regional investment experience in a wide range of standard and alternative asset classes, particularly in the self-storage industry.
Apartments are at the Forefront of America's Changing Housing Demographics
Companies such as Amazon changed the nature of the retail industry. As the retail giant grows it also continues to transform the industrial and creative office markets where its facilities are located. But housing is housing – people need to live somewhere, and most prefer to live close to where they work. You just can't outsource a place for people to live, Sussman says.
Unfortunately, the cost of living – especially in core coastal markets – has grown astronomically and has far outpaced inflation. In many cities, people pay half or more of their household income just in rent. Home ownership? That's a far-fetched and unattainable option. Consider that the median home price in San Francisco is $1.6 million, while the median home price in New York City is $1.3 million. Go up and down either coast or in any thriving major city and you'll find similarly ridiculous single-family home prices.
Higher-density multi-family housing is the future of American housing in many primary and tertiary markets.
Add in mass coastal migration – people leaving expensive coastal regions and moving inland seeking more affordable places to live – and you've got the perfect storm for unprecedented growth in the multi-family housing sector, Sussman says.
Apartments are an attractive housing option for many demographics, from mobile Millennials and Gen-Zers to Baby Boomers cashing in on the tremendous appreciation of their homes. Individual investors seeking long-term growth and steady income should find a wealth of investment options in the multi-family space.
"Long-term, I am a huge proponent of multi-family," Sussman says. "There have been broad changes in the real estate market, primarily due to a lack of affordability and people still trying to recover from the financial crisis. Multi-family apartment complexes and duplexes make an attractive asset class for investment, especially for retirement investors who can adapt to longer hold times."
Multi-family Strikes an Excellent Balance Between Risk, Reward and Diversification
Every investment is about balancing risk, return and determining how the investment fits into a well-crafted and diverse portfolio, Sussman says. The risk-reward balance in multi-family is as good as it gets in real estate
– apartment are the least risky type of real estate investment and provide healthy expected returns. Also, generally speaking, real estate has a modest correlation between the equity markets, so it helps diversify an investor's portfolio as well.
Multi-family is a safer real estate investment play for many reason. Growth throughout the multi-family sector is a primary factor.
"The largest growth segment of multi-family renters is people over the age of 60," Sussman says. "It's the largest-growing segment lot of folks selling their homes, realizing a lot of appreciation, and moving into hassle-free, lower-cost housing options. We are seeing that trend in a lot of markets."
Apartments are a viable housing option for younger generations as well. Many Millennials and Gen-Zers aren't interested in chasing the American Dream of home ownership. Primary concerns for this upwardly mobile demographic include affordability and job mobility, and renting an apartment or duplex provides much-needed financial and geographical flexibility.
"Most people in their 20s change jobs three, four, even five times," Sussman says. "They are not likely to settle down in a single-family home – that's why the fundamentals of multi-family housing have been so favorable. It's a structural shift. The U.S. is going the way most of world already has toward higher-density living."
While older generations often invested in annuities or certificates of deposit, the return on those investments is subpar compared to more favorable 21st century investment options. Potential returns on multi-family investments far outstrip these historical investment vehicles.
"The rates being paid on annuities and CDs today are somewhere between jack and squat," Sussman says. "Multi-family investment offers current yield well in excess of those types of investments, plus there's the opportunity for growth as rents increase over time.
"You want to diversify; that is common sense," he adds. "If you put money into real estate outside of a home, it should go into a multi-family property; that is where solo investors should be looking to put their money. This is a long-term investment based on structural shifts in the residential housing markets."
"It is a very favorable sector in real estate," adds Rocket Dollar's Kryzanowski. "People want to be more secure about their retirement principal and income. Multi-family allows investors to make an initial investment in an asset class that's historically much safer than other single-tenant properties. Multi-family is a safe bet for Millennials all the way up the age scale to retirees."
Rocket Dollar allows individuals and married couples to invest in multi-family properties through their Self-Directed Solo 401(k)s or Self-Directed IRAs. These accounts offer two primary benefits for solo investors, Kryzanowski says.
"These accounts provide checkbook-level control," he says. "There are a lot of exciting multi-family investment options in an account holder's geographic region where they could spread their retirement wealth among a fair number of properties and realize strong earnings with minimal risk. Their investment also is backed by a hard asset. While multi-family assets declined in value and struggled during the Great Recession, they still were the best-performing class of real estate because multi-family has income diversification spread across numerous tenants. In so many ways, multi-family is such a dynamic asset class in terms of getting good yield backed by a hard asset."
Contributors: Eric Sussman, Founding Partner at Clear Capital, LLC (Real Estate) and Dan Kryzanowski, VP of Business Development at Rocket Dollar, Inc.