4 min read
Meet KingsCrowd: The Smart Solution To Startup Investing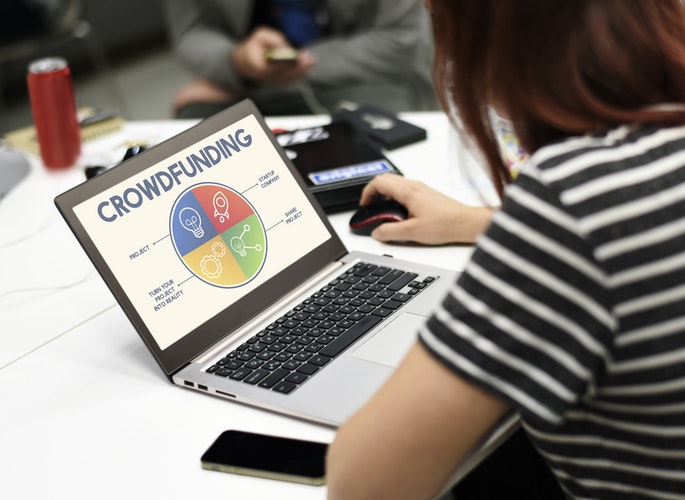 The explosion in non-accredited and accredited online investing, including countless investments in startups and female- or minority-owned enterprises, has created a new pool of alternative investment opportunities for Rocket Dollar retirement investors.
Crowdfunding is hot – globally, more than $34 billion has been raised through crowdfunding, and the market is expected to grow to more than $300 billion by 2025.
Crowdfunding investment opportunities include peer-to-peer lending, equity crowdfunding and rewards-based crowdfunding. There currently are 46 equity crowdfunding exchanges registered with the Financial Industry Regulatory Authority that enable startup investing in hundreds of deals for trustees of self-directed retirement accounts and accredited investors as well.
KingsCrowd was created to help retirement investors and others zero in on the best opportunities among all those deals using its new online ratings and analytics platform, which is focused solely on equity crowdfunding investments.
KingsCrowd: Institutional-Grade Analytics and Research
Chris Lustrino's background includes extensive experience in private equity due diligence. He founded KingsCrowd to provide institutional-grade analytics and research on startups raising capital in exchange for equity to newcomers and other types of investors.
Equity crowdfunding investments differ from traditional venture capital funding – non-accredited investors oftentimes can put in as little as $10, so you don't need to have a lot of liquidity or be a millionaire to begin investing and diversifying your retirement assets. And investing in these companies returns real equity just like any venture capitalist would get – a diversified retirement portfolio could potentially include ownership in 10 to 20 crowdfunded startups.
Lustino says crowdfunding is growing because venture capitalists in some crucial ways leave a lot to be desired – they aren't necessarily concerned about finding diverse ideas and investment opportunities. Equity crowdfunding also lets retail investors and others invest in causes they want to support, while the rigid structure of VC funding often overlooks the social impact of an organization.
KingsCrowd Cuts Through the Noise
Lustrino says KingsCrowd helps equity crowdfunding investors cut through all the noise and find the best investment opportunities.
"We've all have heard of great startups or other investment opportunities we never invested in for some reason," he says. "And investing in the private markets is much different from the public space because most companies don't have financial data to review. It can be hard to figure out a good investment opportunity. Questions, confusion, and apprehension can lead you to not pulling the trigger or thinking that if you do you will make mistakes.
"KingsCrowd aggregates deals from all 46 different crowdfunding platforms into one place. We conduct essential due diligence on companies to provide greater insight into the potential worth of an investment and provide independent, unbiased reviews. We make it easy to cut through all the noise and make efficient investment decisions in these new private market investment opportunities. You'll know where to go and what to look for to know if it's a good deal."
How it Works: Unparalleled Access
Things KingsCrowd looks at include:
Potential market size to determine how large companies might grow to be and if they are operating in a good, scalable space

Terms of the deal (i.e., company valuation)

Business model

Product / service differentiation

Founder experience
For highly rated deals, KingsCrowd tries to speak directly with founders to get to know them and fully comprehend not only their vision, but more importantly, their ability to execute.
Execution is super important in a company's early stages, Lustrino says.
"We also look at the overall business model to determine if it's viable, and also to see if the company meets certain key financial metrics. We consider product or service differentiation – is this better than what currently exists? Is it new? These are the factors that give us grounds to base our ratings.
"If a company works from a business and financial perspective, then we'll provide a strong, independent, unfiltered review and rating of the opportunity."
KingsCrowd subscriptions cost between $10 to $20 a month for access to it's deal-rating reports. When fully built out, KingsCrowd plans to offer a more comprehensive rating platform at a higher premium price point for those that need a more robust solution. Lustrino says KingsCrowd is a pay-for-access model so subscribers know they are receiving unbiased insight – it will not accept money from startups or the many crowdfunding platforms.
"We'll teach you how to identify which startups and entrepreneurs to invest in," he says. "We can take away the time and fear factors from making important financial investment decisions through key research and insight into companies that are good to potentially invest in using many relevant factors to consider as a guide for the investment opportunity.
"A lot of Millenials and other investors have a strong desire to invest in things they care about, things that create positive social impact outside of providing a return. They are finding a better diversity of startups to invest in through equity crowdfunding, and they are aligning their investment dollars with the things they care about."
Save Time and Eliminate Doubt
Retirement investors who have been investing in public markets also want to invest in alternative asset classes. KingsCrowd can save time and eliminate doubt about equity crowdfunding opportunities by providing a deep scan of some of the best companies raising in the equity crowdfunding space.
Retirement investors can create a more diversified retirement portfolio of startups by investing in 20 to 30 of these opportunities using their tax-friendly Self-Directed Solo 401(k)s.
Exclusive Content For The Rocket Dollar Community
KingsCrowd and Rocket Dollar have partnered together to deliver our readers quality research on the latest equity crowdfunding deals. Every month KingsCrowd will contribute a curated list of top 3 startups worth investing in with attached reports exclusively for the Rocket Dollar community.