When competing for investor dollars, merely offering a healthy return is not always enough to keep investors happy. Keeping investors engaged with their money in new and interesting ways should be the goal of any fund.
What is a Self-Directed IRA?
A self-directed IRA is one that can invest in alternatives, instead of just stocks and bonds. This means that a Self-Directed IRA can access things like private real estate, private funds, VC, private equity, lend, and more!
All Rocket Dollar accounts also have checkbook control. With checkbook control means that every Rocket Dollar customer can choose their investments as the manager of their IRA LLC.
How we help you raise more money faster:
When one of your existing or potential investors comes to Rocket Dollar, we help them open and fund a Self-Directed IRA or Solo 401(k) that allows them to invest in anything permitted by the IRS. You don't have to handle any retirement savings or education questions.
What that means for you is that when an investor has a Rocket Dollar account, they can invest in your venture using their retirement savings. Best of all, they keep all of the tax benefits of a Traditional or ROTH retirement account when money is returned to their IRA.
You also don't have to hassle between Rocket Dollar to get approved on a platform or release funds. Once the customer's account is ready and funded, the customer can wire. Instruct your customers to sign up online, or call us if they have further questions, and we will take care of the rest.

Bringing an exceptional experience to Self-Directed Investing
When making recommendations of any type to an investor, it's essential to know precisely the experience they are going to have. The Self-Directed retirement space is not known for exceptional customer experiences, which is why Rocket Dollar exists.
Establishing and funding self-directed accounts is not a historically easy process. At Rocket Dollar, we've streamlined every step of the process and put the IRA, LLC, and bank account all under one customer experience.
By having checkbook control of their retirement funds, your investors will not have to go through a custodian who will keep them on the phone for hours, place restrictions on what they can do, and at the end of the process, send them a bill or extra fees. We've built our pricing around a simple model, starting at just $360 and then $15 a month for our Core Account, with full transparency around what our customers will pay. Our Gold account at $600 and $30 a month is the white glove experience for the discerning investor.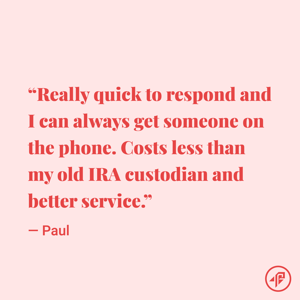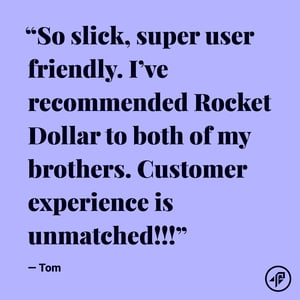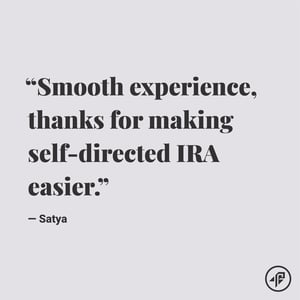 A Win-Win Scenario
We want to make sure your investors can use their retirement funds to invest in your projects, and at the same time, not increase the administrative burden of taking retirement dollars. By achieving this, we've created a win-win scenario for both investors and investments.
If you'd like to learn how our team at Rocket Dollar can help you raise retirement dollars from your investors, please schedule a call with a member of our team, or send us an email to info@rocketdollar.com.
FAQs
Does someone have to be accredited to use a Self Directed IRA?
No! Most of Rocket Dollar's audience is accredited but being an accredited investor is not necessary to open a Rocket Dollar account. Whatever deal the investor's IRA is pursing, those accreditation standards pass on to their Self-Directed IRA. Retirement Accounts tend to start small for younger investors and grow over time, so partners that have the most success on www.rocketdollar.com/partners have a minimum check size between $10,000- $250,000.
How do I get on the Rocket Dollar platform? What do I have to upkeep the relationship and get my deals ready to invest?
Once a customer opens and funds a Rocket Dollar account, that new customer can invest in any investment allowed by the IRS through checkbook control. Once an investor completes your usual LLC entity investment paperwork, that investor can release the funds through a simple wire of electronic funds transfer.
All deal review paperwork, singing, and sending of funds is between you and the customer. No need to call Rocket Dollar to approve a deal or a release of funds! Companies on www.rocketdollar.com/partners have established a commitment to accepting retirement funds, and are just a fraction of the total investments our customers can access. We engage with these companies in co-marketing and evangelism of alternatives in the retirement space.
Learn more in The Rocket Dollar Guide to Self-Directed Retirement Plans