California residents can choose a Self-Directed IRA with or without an LLC. If you want to forego an LLC, you can contact us to direct hold your asset. A Self-Directed Solo 401(k) at Rocket Dollar uses a trust to avoid CA LLC costs.
California residents can contact Rocket Dollar for a custodial Self-Directed IRA without an LLC. You can hold one asset with a Rocket Dollar Gold Account for $600 to sign up and $30 per month.
If you are just investing in one asset, you can have the same pricing as all Rocket Dollar Gold Customers. $600 to sign up, and $30 per month. Please contact our sales team if you aren't sure which structure works for you. 1-855-762-5383. This structure could have additional requirements for deal approval, and forgo the benefits of an LLC, but avoids high LLC fees from the California state government.
Can I buy a Rocket Dollar Core Account with direct custody?
No, sorry, not at this time. These custody IRAs take much more time and service for our support team to assist you and your account.
How does the pricing compare for my options?
LLC California IRA
$360 Core account signup (one time)
$15 a month compliance fee
$800 year paid to California
$70 one time fee to register your Rocket Dollar Colorado IRA LLC as a foreign entity


No - LCC California Custody IRA
(Fees updated July 2020, and more options coming in 2020)
$600 Gold account signup (one time)
$30 a month
Gold Account cover 4 wires a year
Premium level of support and expedited service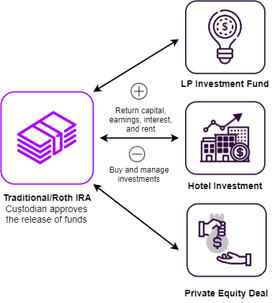 What does this structure look like?
I'm ready to get started... What next?
Sign up for a Rocket Dollar IRA at rocketdollar.com/signup
Send an email to the info@rocketdollar.com or directly to our support team in your dashboard support options stating you would like a California IRA without an LLC
California residents can decide to open their IRA with an LLC but should be aware of additional costs.
You can also review the advantages of having an LLC by clicking here.
California residents using an IRA with a California LLC have to pay the annual California Franchise Tax Board tax/fee.
If you use another state's LLC, you must register the other state's LLC as a foreign LLC, pay the California Foreign Registration fee, and pay the California Franchise Tax Board Fee.
You will be responsible for paying and registering your IRA LLC.
Can I still purchase absolutely any asset?
Keep in mind that you will have to complete a deal review with our custody partner. Because our custody partner helps you hold the asset on their books, instead of your IRA LLC holding it, our custody partner can say no if they feel uncomfortable holding the asset or your situation fails the deal review.
Currently, at this time, our California custody partner is not accepting deal reviews for Cryptocurrency and will not hold those investments. You would have to use our LLC product.
If you still want to purchase crypto, you can still do so in California but at this time must pay the $800 yearly franchise board tax fee and register the Colorado LLC that Rocket Dollar would open for you. We are continuing to work on solutions for Crypto Customers in California to make this more affordable and accessible.
What about a Self-Directed Solo 401(k)?
A Self-Directed Solo 401(k) uses a trust, not an LLC, and thus the extra LLC considerations do not apply. California residents can enjoy the same Rocket Dollar Core $360 signup and $15 per month fee, with no new investment fees. This can be a great alternative if you qualify.
Want to read more?