Cryptocurrency is a newer asset class and thus creates a few common questions.
How is my account structured? can I read a general overview of how it works at Rocket Dollar?
Rocket Dollar uses an IRA LLC model, also called a checkbook control model. This means as the LLC manager, you are in control of selecting your exchange and crypto-wallets.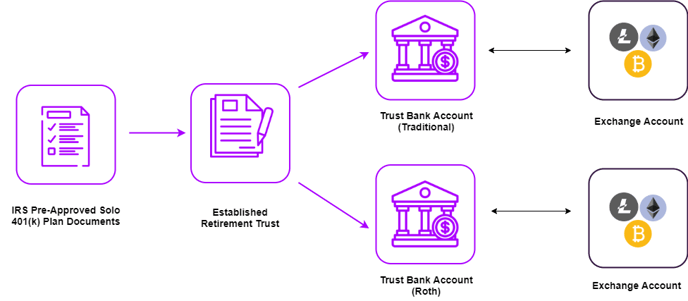 You can read our general structure and process article here.
How do I register my account on a crypto exchange?
We have instructions for Gemini and Coinbase. You can use any exchange, but it MUST take your registration of your IRA LLC.
UPDATE: As of March 15th, 2021 Gemini and Coinbase are experiencing significant delays in institutional account openings for IRA LLCs and Solo 401(k) Trusts. These institutional applications usually took about 2 weeks for most of 2020, and have ballooned up to 6-8 weeks as new cryptocurrency account applications are at all time highs.
Do I have to use these exchanges?
You are free to use other exchanges, but Rocket Dollar cannot provide any direct guidance on their application process. The exchange must have an ENTITY/corporate/institutional signup that is able to accept signup of your IRA LLC or Solo 401(k) Trust.
Can I use a decentralized exchange or services like Uniswap or AAVE?
You can connect a Coinbase wallet with Uniswap and AAVE. All activity must be credited to the IRA LLC. If you conduct transaction or activity that you cannot prove is from your IRA or IRA LLC, you could be subject to penalties or fines.
How would I get cryptocurrency Coin or token that I can not get on Gemini?
You can purchase Bitcoin or Ethereum on an exchange like Gemini or Coinbase and use it to exchange for the coin or token you are targeting. It is important that all valuing entering cryptocurrency is attributed to your IRA LLC.
Can I store cryptocurrency in a cold storage wallet or hardware storage device?
Review our article here. There is currently no IRA guidance to taking crypto into a hardware device, and mistakes could lead to penalties and fines according to the prohibited transaction rules. It is best to leave the cryptocurrency on exchange hot or cold wallets.
Can I lend and stake out my cryptocurrency?
All loans or credit to an IRA must only be from a non-recourse loan. This means that all loaning agreements must be non-recourse, and NO margin agreements should be signed or extended to the IRA. Whenever possible, use a service that can show the activity came from your IRA, such as a coinbase wallet connection or someone that can register your LLC, like Celcius network.
You cannot do a personal application, with solely your personal name on the account. Always search for or ask for the institutional connection.
What is a prohibited transaction and what is allowable in a Self-Directed IRA?
If the IRS feels a customer has committed a prohibited transaction, they can order a distribution of your IRA, which meals all dollars will lose their tax-advantaged status and possible early distribution penalties. There are some basic rules call self-dealing (do not do any business with your personal finances, personal crypto accounts, and your IRA) and prohibited persons (do not do any business with your kids, spouse, parents, or grandparents) to know.
You can read more here about common prohibited transactions related to crypto.
Can I buy a mining machine and use it to mine crypto?
Yes, but you will almost certainly be subject to UBIT, or unrealized business income tax. The IRS sees most mining activity as active trade or business activity. UBIT is taxed at the Trust tax rates, which are higher than the individual tax rates. UBIT requires the IRA or Solo 401(k) to file a tax return on IRS form 990-T.
Solo 401(k)s are not exempt from all types of UBIT. Solo 401(k)s are exempt from Unrealized Debt-financed Income (UDFI), but mining will trigger UBIT, not UDFI.
Can I invest in crypto in an IRA from California?
You can, but be aware of the $800 yearly franchise board tax fee for using an LLC. You can avoid it if you qualify for a Solo 401(k), which uses a trust. Rocket Dollar is hard at work looking for options and partners to solve this issue.
Can I accept personal perks for investing in crypto with my IRA account?
No, under no circumstances. Taking personal perks is a clear prohibited transaction, and only your IRA can benefit from IRA investments. It would fine to seek out lower transaction fees for bigger IRA investments, but not perks you use personally.
Can I purchase an NFT?
NFTs are digital collectibles. The IRS has long disallowed collectibles in retirement accounts, and any collectible investment puts an IRA at definite risk of a prohibited transaction and should be avoided at all costs. Some common examples of collectibles the IRS enforces are fine rugs, diamonds, gems, artwork, classic cars, and baseball cards.
The IRS can bring enforcement on any investment that is not "held at arm's length" or could be abused by the investor themselves, such as buying a classic car, artwork, or NFT in a retirement account and then showing it off to personal friends.